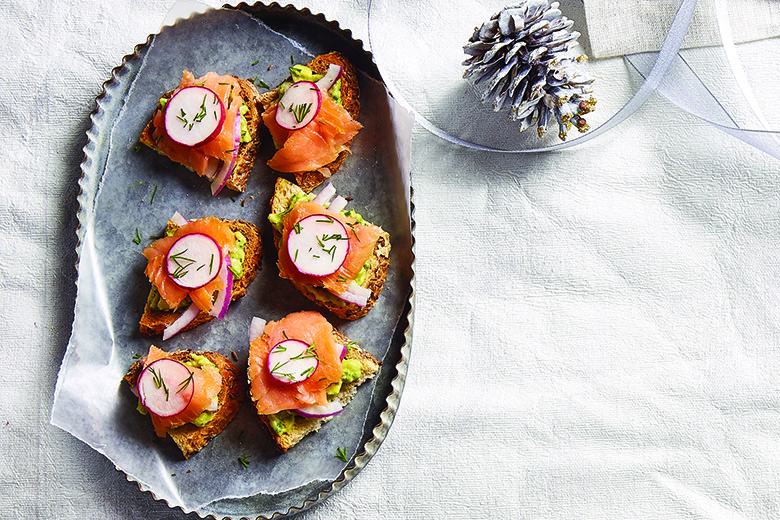 With the holidays upon us, Food & Nutrition's recipe developers cooked up a beautiful spread of secretly nutritious snacks, sweets and mocktails that are sure to entertain guests! Find our other "Festive Fete" recipes here.
---
Servings: 8
Serving size: 2 pieces
Prep time: 15 minutes
Cooking time: 2 minutes
Ingredients
1 medium avocado
4 tablespoons finely chopped fresh dill, divided
3 tablespoons finely chopped fresh chives
½ teaspoon minced garlic
¼ teaspoon black pepper
½ tablespoon (8 milliliters) lemon juice
4 slices seeded rye bread
3 tablespoons thinly sliced red onion
2 small radishes, thinly sliced
4 ounces wild Alaskan smoked salmon
Instructions
Halve, pit and scoop flesh from avocado into a small mixing bowl.
Add 2 tablespoons dill, chives, garlic, pepper and lemon juice and mash until smooth and combined.
Toast slices of bread and lay on a clean cutting board or countertop.
Top each slice with a quarter of the avocado mixture, about 2 tablespoons.
Cut slices into 4 equal-sized pieces. Top each square with equal amounts of onion, radishes and salmon.
Garnish each with remaining dill.
Nutrition per serving: CALORIES 112; TOTAL FAT 4g; SAT. FAT 1g; CHOL. 13mg; SODIUM 230mg; CARB. 13g; FIBER 2g; SUGARS 1g; PROTEIN 7g; POTASSIUM 185mg; PHOSPHORUS 88mg