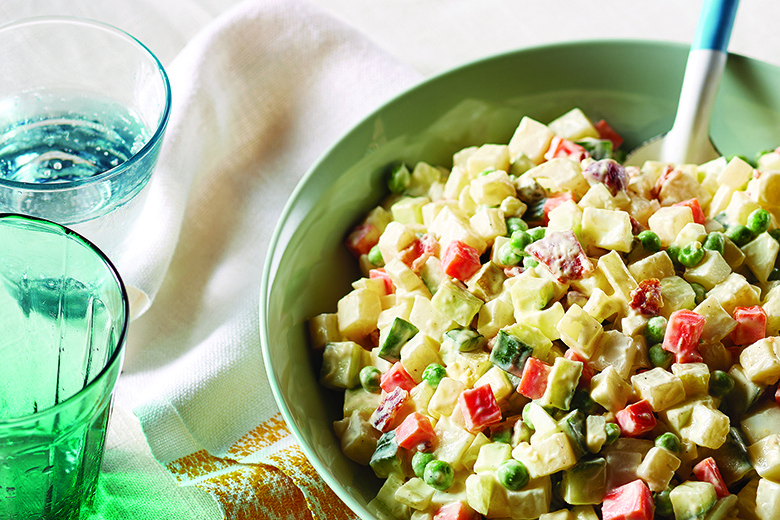 This cool, creamy side dish is packed with potatoes, crunchy vegetables and a little bacon to honor the flavors of the traditional Ukrainian recipe olivye. This recipe is part of the 2018 Food & Nutrition cultural competency series, My Global Table.
Servings: 12
Serving size: ½ cup (120 grams)
Prep time: 1 hour
Cooking time: 25 minutes
Ingredients
1 tablespoon salt
2 large white potatoes
2 medium carrots, peeled and snapped in half
1 cup frozen sweet peas
2 strips center-cut bacon, cooked
3 large hard-boiled eggs, peeled
½ cup diced sweet onion
½ cup diced pickles (about 5 baby dill pickles)
1¼ cup diced English cucumber
¼ cup mayonnaise
½ cup 2% Greek yogurt
⅛ teaspoon coarse salt
¼ teaspoon ground black pepper
Instructions
Bring an 8-quart stockpot of water and 1 tablespoon salt to a boil.
Carefully add potatoes and boil about 20 minutes, until potatoes are fork tender. Add carrots during the last 10 minutes of cooking.
Using a large slotted spoon or skimmer, remove carrots and potatoes, transfer to a bowl and place in refrigerator to cool.
Add peas to the boiling water and cook 5 to 7 minutes or until softened. Drain and let cool on the counter.
Peel skins off the cooled potatoes. Dice potatoes, carrots, cooked bacon and boiled eggs into uniform pieces, about ¼ inches.
Place diced ingredients in a large bowl with onion, pickles, cucumber and cooked peas.
In a medium bowl, stir mayonnaise, Greek yogurt, salt and pepper until combined.
Gently fold dressing into diced ingredients using a spatula, taking care not to mash potatoes.
Cover and refrigerate at least 2 hours before serving.
Nutrition per serving: 119 calories, 5g total fat, 1g saturated fat, 46mg cholesterol, 155mg sodium, 14g carbohydrate, 2g fiber, 2g sugar, 4g protein, N/A potassium, N/A phosphorus
Product We Recommend For The Month
Pique Tea: The Tea for Radiant Health
Pique Tea supports gut health, fasting and calm. We recommend serving Pique Tea as complimentary drink for this recipe.
---