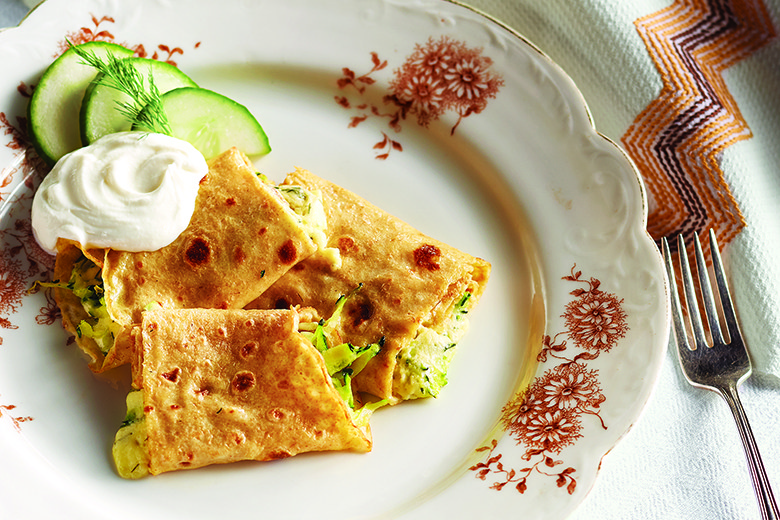 This rendition of the savory Ukrainian dish nalysnyky uses whole-grain flour, zucchini, cottage cheese and ricotta in place of white flour and quark cheese. This recipe is part of the 2018 Food & Nutrition cultural competency series, My Global Table.
Servings: 10
Serving size: 3 crepe pieces, 1 tablespoon Greek yogurt, 3 cucumber half slices, 1/10 tablespoon dill (115 grams)
Prep time: 15 minutes
Cooking time: 50 minutes
Ingredients
4 large eggs
1 cup (240 milliliters) 1% milk
½ cup (120 milliliters) water
½ teaspoon salt
1 cup white whole-wheat flour
1 packed cup grated zucchini
1½ cups 4% milk fat cottage cheese
2 tablespoons whole milk ricotta cheese
2 egg yolks
2 tablespoons chopped fresh dill leaves, divided
1 tablespoon (15 milliliters) melted unsalted butter
1 tablespoon (15 milliliters) olive oil
½ cup plus 2 tablespoons nonfat, plain Greek yogurt
15 cucumber slices, halved
Instructions
In a medium bowl, beat eggs with a whisk, adding one at a time. Whisk in milk, water and salt.
Gradually add flour, stirring just enough to fully combine and remove lumps.
Mist a 9½-inch nonstick pan with cooking spray, then preheat over medium-low heat.
Fill a 4-ounce ladle ⅔ full with batter (about 80 milliliters). Pour batter into center of pan, then use bottom of ladle to gently swirl from center to fill pan with a layer of batter.
Flip the crepe when it is slightly golden and firm enough to hold its shape, about 45 seconds to 1 minute.
Cook other side for about 45 seconds, then stack on a plate and cover with a large saucepan lid. Repeat for a total of 10 crepes, using cooking spray as needed.
Wrap zucchini in a large cheese cloth and squeeze out excess moisture, then set aside.
In a food processor, puree cottage cheese and ricotta until smooth and creamy. Add egg yolks one at a time, pulsing each to combine.
Using a rubber spatula, transfer cheesy mixture to a bowl and stir in 1 tablespoon dill.
Preheat oven to 350°F (177°C). Line a 9-by-13-inch glass baking dish with a sheet of foil that extends approximately 6 inches over each end of the dish, then brush melted butter onto foil.
Lay crepes on a large cutting board or clean surface. On each crepe, spread 2 tablespoons cheesy mixture, then top with 1½ tablespoons zucchini.
Gently roll each crepe and cut into 3 equal pieces. Layer pieces in baking dish and brush tops and sides with olive oil.
Bake 30 minutes. Gently place pieces onto a serving platter and garnish each with 1 teaspoon Greek yogurt, a sprinkle of dill and a piece of cucumber.
Nutrition per serving: 165 calories, 8g total fat, 3g saturated fat, 115mg cholesterol, 299mg sodium, 14g carbohydrate, 3g fiber, 3g sugar, 12g protein, N/A potassium, N/A phosphorus
Product We Recommend For The Month
Tribest: Making healthy living easy
Personal Blender II The new Mason Jar Ready Personal Blender II handles all your basic daily blending needs including smoothies, sauces, and soups.
---