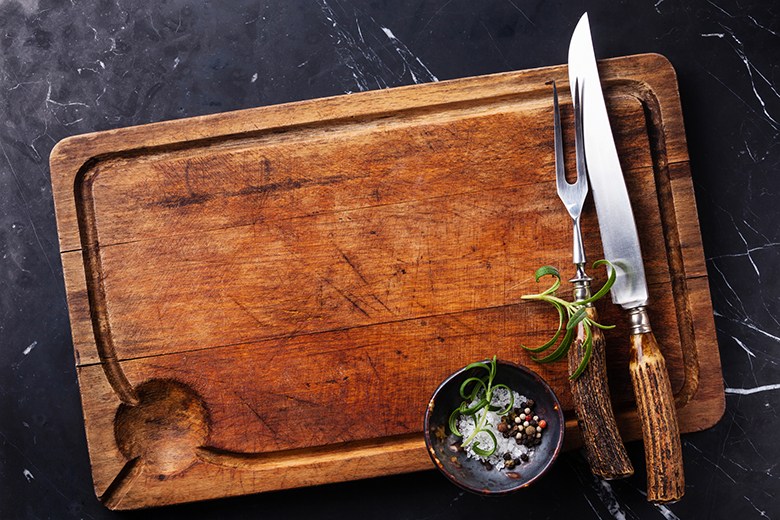 The holiday season is a time to come together and give thanks, but it also can be a time for anxiety. If you're hosting a feast, use these tips to stress less and impress your guests.
Carving a Turkey
Use a sharp knife. A dull blade may shred meat, but a high-quality knife allows for slicing turkey as thick or thin as you like with precision and ease.
Let it rest. Once the turkey is done cooking, allow it to cool slightly on a cutting board for about 20 minutes before carving. This gives juices inside the turkey time to redistribute, so slices are moist and juices stay inside the meat (instead of on the cutting board) when carving.
Cut into sections. Start by cutting along where the leg and body meet, separating the drumstick and the thigh on both sides of the turkey. This is where most of the dark meat is located. Next, cut straight down the middle of the turkey, following the curve of the bone to remove each breast. Slice each breast to your desired thickness and arrange pieces on a serving platter with the sliced thigh meat and drumsticks.
Slicing a Ham
Whole Ham: Slice a small piece off the bottom of the ham and place that side on the cutting board. This creates stability for safe, even slicing. Cut vertical slices of your desired thickness until the knife reaches the bone. Then, cut horizontal slices along the bone to release additional slices.
Spiral Ham: With the cut-side facing you, cut around the bone with a paring knife. Next, use a carving knife to make horizontal slices above the bone. Place the ham cut-side down on a cutting board and slice along the bone to release the meat. Then cut between the slices to separate pieces.
Shank Half Ham: Place ham on a cutting board with the thicker portion on top. Cut along the top of the bone to loosen meat, then cut into desired thickness. Remove the remaining meat on the bone using the same technique.
Boneless Ham: Stand the ham up vertically on a cutting board, then cut several slices from the side. Rearrange the ham to cut-side down, and slice to desired thickness.
Time-Saving Tips
Delegate. Hosting doesn't mean you have to do everything. Ask guests to bring side dishes, rolls or beverages.
Shop early. Review the recipes you plan to use and buy as many ingredients ahead of time as possible. Canned and frozen items, as well as hardy vegetables such as squash, onions and carrots, won't spoil if bought a week before use.
Prepare. Pre-chop or peel vegetables and make cranberry sauce, stuffing and desserts the day before your dinner. This can save precious time and oven space on the big day.
---
More tips that help prepare you for the holidays: "Healthy Kitchen Hacks for the Holidays"
To see the Healthy Kitchen Hacks series, click here.