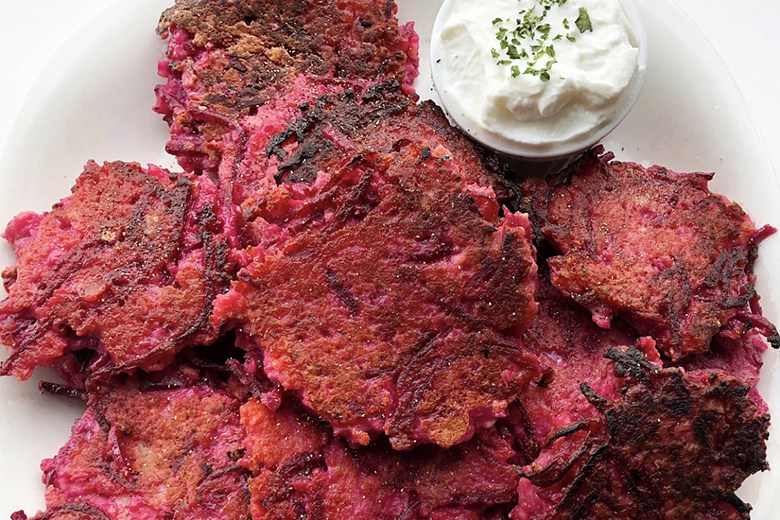 Latkes are a Hanukkah staple. Because they're typically deep fried with the skin removed from the potatoes, they're also pretty calorie-dense and devoid of many nutrients. To make them more nutrient-dense, I love adding one of my favorite vegetables to a traditional potato pancake — beets.

 Adding beets bulks up the volume of the latkes, with only half the amount of potato, which means that for the same amount of calories in one traditional potato latke, you could have three potato-beet latkes! Beets are loaded with fiber, vitamin C, potassium and even phytosterols, making these latkes the perfect nutrient-dense side dish. Oh, and did I mention the gorgeous pink color?
---
Potato Beet Latkes
Makes 12 to 15 latkes
Ingredients
3 cups peeled, shredded potatoes
2 cups shredded beets
½ cup all-purpose flour
1 teaspoon salt
½ teaspoon baking powder
3 eggs
2 tablespoons olive oil
Instructions
Place potatoes and beets in a bowl. Squeeze out excess water with a cheese cloth or kitchen towel.
In another bowl, combine flour, salt and baking powder. Whisk eggs in a separate bowl and add to bowl with flour.
Add beet and potato mixture to bowl. Stir all ingredients well.
Heat olive oil in a large skillet over medium-high heat. Drop mixture into the pan using a spoon or ice cream scoop — the mixture will be very wet. Form latkes into rounder shapes once in the pan, using the sides of the spoon or scoop. Cook latkes until brown, about 3 to 4 minutes each side.
To warm latkes after cooking, place in oven on 350°F for 10 minutes.
Product We Recommend For The Month
Chews Life: Rosaries for Children

Chews Life makes saying the rosary so easy and a constant beautiful reminder. A Must have for every Catholic Baby!