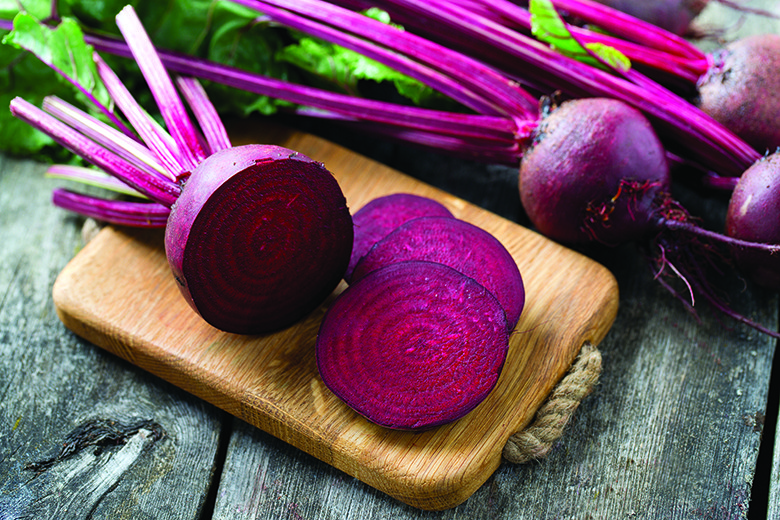 Beets have a range of culinary uses, but their hard texture and tendency to stain surfaces can make them daunting to prepare. Try these tips to become a better beet cook.
Roast: Many recipes suggest wrapping beets in foil and baking, which works well when prepping a day ahead (baking time is 1 hour, plus additional time needed to cool and skin beets). A quicker method is to cut beets into half-inch cubes, toss with oil and roast in a 400°F oven for about 20 minutes. Beet skins are edible (after being scrubbed) and offer dietary fiber. Roasting beets without foil also results in toasty, sweeter flavors.
Instant pot or pressure cooker: These fast cookers are a game changer for cooking root vegetables. Whole, unpeeled beets cook in about 15 minutes.
Boiling, steaming or microwaving: Cube beets (skin and all) for these faster cooking methods, which work well for making soups or smoothies. Use the cooking liquid in the final soup or smoothie, or to make pink ice cubes. Add the slightly earthy-flavored cubes to an herbal gin cocktail, a tart kombucha mocktail or a glass of water.
Note: While starchy root vegetables get mealy and fall apart when over-cooked, non-starchy beets stay moist and firm. This makes it difficult to overcook beets, but know they will rarely get as tender as potatoes.
Stain-Free Serving
When prepping raw beets, coat your cutting board with cooking spray. After slicing, wipe the board clean with a paper towel.
If you choose to skin cooked whole beets, work in the sink or on a large rimmed baking sheet to contain the stain. To keep your fingers from turning red, wear clean rubber gloves or use paper towels to rub off beet skin. To remove stains from your hands, gently rub them with kosher salt, then wash with soap and warm water.
Proposed Pairings
Sweet: Almost any fruit pairs with beets, but winter or fall fruits are an especially good match; try pomegranates, persimmon, pears, citrus and dried fruits. Sweet vegetables such as fennel, carrots and parsnips also complement beets.
Earthy: Fresh thyme and sage, as well as earthy soft cheeses — such as brie and Camembert — pair nicely with cooked beets.
Salty: Miso paste, capers or olives are a great match for warm roasted beets. Goat cheese or blue cheese and beets are a classic pairing. A sprinkling of Gouda or queso blanco also are delicious choices.
Nutty: Roasted beets are soft, so crunchy pistachios, pecans and walnuts provide an enjoyable contrast in texture. Try drizzling a dressing made with peanut or almond butter over a salad of raw shredded beets and apples.
Ingredient Swap!
Try substituting shredded zucchini with shredded beets in recipes. Quick breads, veggie burgers and vegetable pancakes turn into pleasingly pink dishes. Not sure if you'll enjoy the earthy taste of beets? Start by substituting only half the vegetables for a mellower mixture.
This article is part of the Healthy Kitchen Hacks series.
Product We Recommend For The Month
Grove Collaborative Get eco friendly home essentials, including household cleaning, personal care, baby, kid, and pet products.