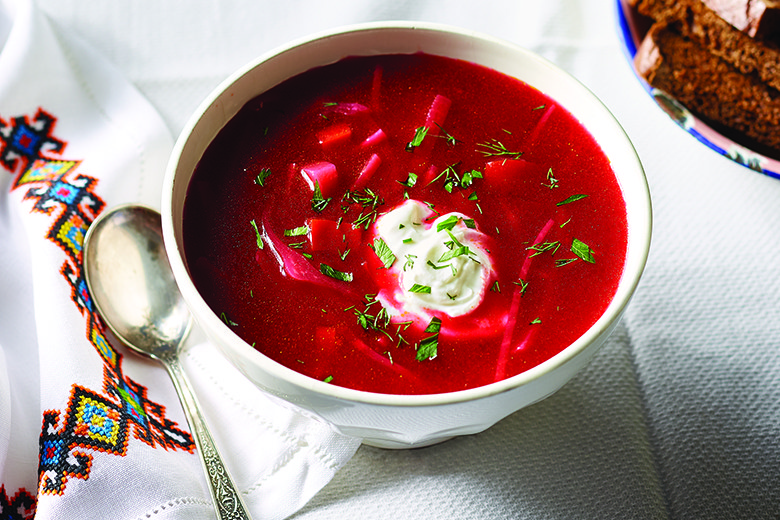 Sliced beets give a gorgeous magenta-red hue to this nourishing and satisfying spin on Ukrainian borscht. This recipe is part of the 2018 Food & Nutrition cultural competency series, My Global Table.
Servings: 7
Serving size: 2 cups soup, 2¼ tablespoons dill, 2¼ tablespoons parsley, 1 tablespoon Greek yogurt (490 grams)
Prep time: 35 minutes
Cooking time: 1 hour
Ingredients
2 tablespoons (30 milliliters) extra-virgin olive oil, divided
3 medium beets, peeled and julienned
3 tablespoons unsalted tomato paste
2 tablespoons (30 milliliters) white wine vinegar
½ celeriac, peeled, cut in half and julienned
2 carrots, peeled and diced
2 bell peppers (yellow, orange or red), diced
3 medium tomatoes, diced
3 quarts (2,840 milliliters) no-salt-added vegetable stock
3 medium Yukon Gold potatoes, peeled and diced
1 14-ounce can no-salt added cannellini beans, drained and rinsed
1¾ cups finely shredded white cabbage
1 bay leaf
4 cloves garlic
1 tablespoon sugar
½ teaspoon salt, plus additional to taste
1 teaspoon ground black pepper
¼ cup plus 3 tablespoons low-fat Greek yogurt
1 cup chopped fresh dill 1 cup chopped fresh parsley
Instructions
In a large cast-iron pan or skillet, heat 1 tablespoon olive oil over medium heat.
Add beets, tomato paste and vinegar. Stir well to combine, then cook over medium-low heat for approximately 15 minutes, stirring occasionally.
While beets cook, heat 1 tablespoon olive oil in a stock pot over medium heat.
Add celeriac, carrots, bell pepper and tomatoes and cook over medium-low heat for approximately 15 minutes.
Pour stock into a 7-quart Dutch oven and bring to a simmer.
Add potatoes, beans, cabbage, bay leaf, garlic, cooked vegetable mixture and beets.
Cook over high heat until boiling, then reduce heat to medium-low.
Add sugar, salt and pepper. Stir well to combine, then simmer for 30 minutes. Add additional salt to taste.
Serve hot and top with Greek yogurt, fresh dill and parsley.
Nutrition per serving: 261 calories, 5g total fat, 1g saturated fat, 1mg cholesterol, 581mg sodium, 48g carbohydrate, 10g fiber, 17g sugar, 8g protein, N/A potassium, N/A phosphorus
Product We Recommend For The Month
SugarWish: Your Best Birthday Gifts
SugarWish Who doesn't deserve a Hooray!