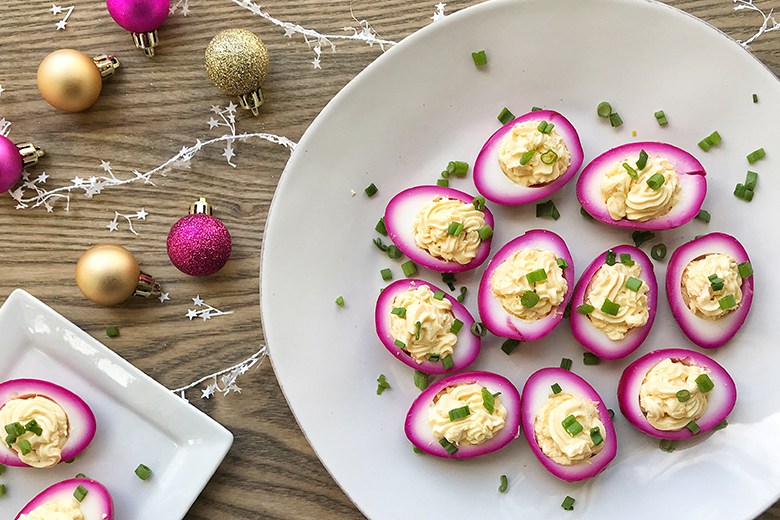 The devil may wear designer shoes, but an angel wears pink hues, especially to holiday parties. However, there is nothing devilish about these beet-pickled stuffed eggs, or as I like to call them, Pink Angelic Eggs. Your guests will be wowed by the pop of pink color from the beet-infused eggs, and they'll never suspect they're eating a healthier version with plain, non-fat Greek yogurt swapped in for mayonnaise.

 And, the best part, these Pink Angelic Eggs are pretty simple for the wow factor and deliciousness they provide. They are definitely dressed to impress.
Steps to Make Beet-Pickled, Hard-Boiled Eggs
COOK 6 eggs to a hard-boiled consistency. Everyone has an opinion about how to make the perfect hard-boiled egg. You may call this cheating, but I use an egg cooker. It is my most-used small appliance besides my coffee maker.
BOIL together 3 cups water, 1 cup distilled white vinegar, ⅛ cup sugar, 1 teaspoon kosher salt and 1 large red beet, peeled and diced. Remove from heat and cool.
PEEL eggs and place in cooled beet-pickling brine.
CHILL eggs in brine at least 4 hours. You'll achieve more color on the egg whites the longer you let them sit in the brine. I let mine sit for 12 hours.
Pink-ify Other Dishes
You can use the pink eggs in the recipe below, or you can use them to add a pretty tinge to other snacks:
Slice eggs on top of toast. My favorite is to add to avocado toast.
Eat as a flavorful, protein-rich snack.
Add to salads, veggie and grain bowls.
Make a beautifully hued egg salad.
Cheers to a holiday season filled with joy, smiles and brightly colored recipes like these Pink Angelic Eggs!
---
Pink Angelic Eggs
Serves 12
Ingredients
6 beet-pickled, hard-boiled eggs (see method above)
½ cup plain, non-fat Greek yogurt
1 teaspoon onion powder
1 teaspoon prepared Dijon mustard
⅛ teaspoon salt (optional)
⅛ teaspoon pepper
2 green onions, thinly sliced
Directions
Cut the eggs in half lengthwise. Remove yolks and place in small bowl.
Add the next 6 ingredients to the bowl with the egg yolks; mix well.
Spoon or pipe the mixture into egg halves; sprinkle with sliced green onions.