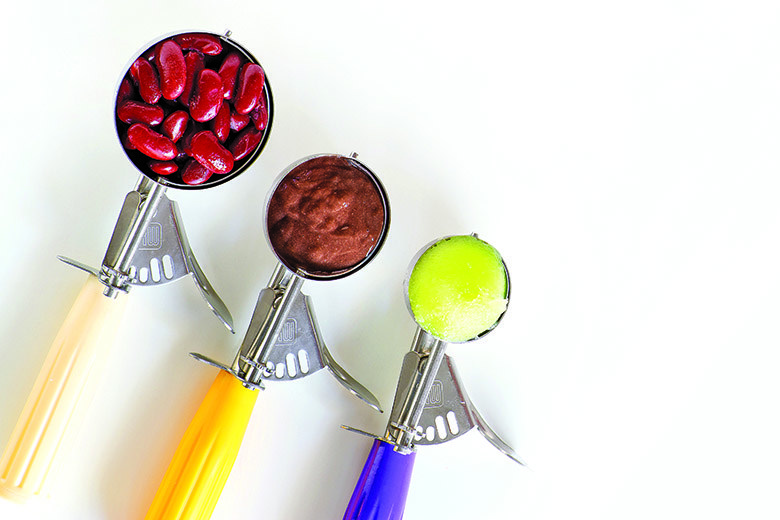 For more than a century, dishers have been used to portion and serve foods ranging from mashed potatoes to chicken salad.
The disher was invented by Alfred L. Cralle in 1897 after seeing servers have difficulty scooping ice cream without it sticking to the spoon. This often resulted in having to use two spoons or utensils to finally get the dessert into the dish. The ability to operate this new scoop with one hand made serving, especially into delicate ice cream cones, much easier.
Today there are scoops made specifically for serving ice cream, while dishers — also known as dippers — are used for portioning and serving other foods.
The disher is a useful tool in home kitchens and foodservice operations alike. Commercial dishers are sorted by a number system, ranging from 4 to 100, based on how many scoops it takes to fill a 32-ounce container. The smaller the number, the larger the portion size. Dishers range from as small as two teaspoons to as large as one cup. Each disher size also is coordinated with a handle color, making it easier for servers to distinguish between portion sizes and prevent cross-contamination.
Dishers can be used for cookie dough, muffin and cake batters to create consistency in both portion sizes and recipe yields. This also helps ensure each serving bakes at the same rate and reduces the chance of portions being over- or underdone.
Using dishers for prepared foods such as chicken salad, as well as soft foods such as rice, mashed potatoes, vegetables, diced meats and prepared salads, allows for easy portion control without having to sacrifice presentation. This is especially helpful for foodservice operations serving a high daily volume of meals.
Most dishers are relatively inexpensive and can be purchased online or at commercial kitchen supply stores, making them easily accessible for culinary professionals and home cooks. Many are made of stainless steel or aluminum, making them both durable and easy to clean. Unless otherwise specified, most dishers are dishwasher safe and can be heated or chilled depending on their use. For example, dishers can be dipped in hot water to make foods release from the scoop more easily.
Dishers come in either a thumb press or squeeze handle model. Thumb press models feature a release button located on the side of the handle to dispense food easily and quickly. One caution about this type of disher: Most models are designed for right-handed users, which can affect ease of use if the server is a lefty.
The squeeze hand model involves squeezing the entire handle to release the food. This variation helps reduce hand fatigue with prolonged use and is suitable for both right- and left-handed users.
Specialty models of dishers include a half-moon shape, triangle and rectangle, which can be used when serving softer foods such as soft cheeses or dips.
Product We Recommend For The Month
andkeep Weighted Vest: Add resistance to your body weight training
BodyRock Your 24 hour fitness pal, offering daily high-intensity interval training exercises to help you reach your fitness goals.
---