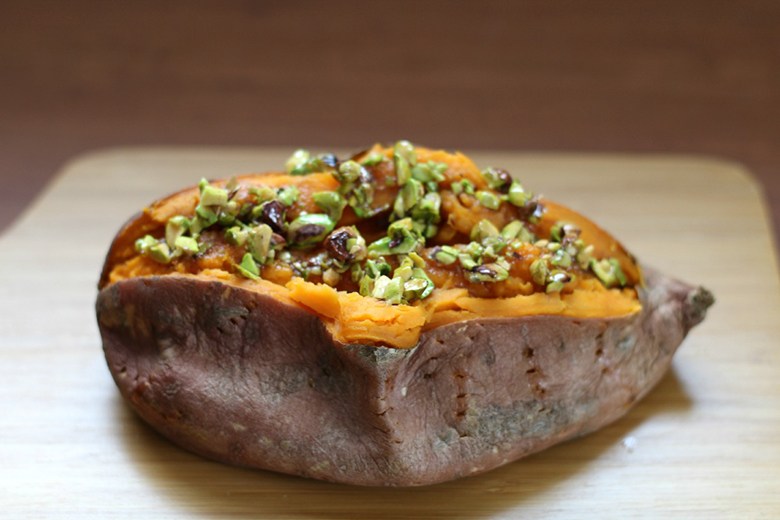 I love sweet potatoes. I could literally eat one every single day and not get sick of them. This sweet potato recipe will make your taste buds melt. 

 It's a soft sweet potato topped with a nutty, crunchy, honey-based coating. And it's so simple, which makes it perfect for this time of year when we all have so much going on.
If you're like me, honey and cinnamon are staples when it comes to topping your sweet potato. Pistachios are like icing on the cake and will help your body absorb the beta-carotene found in sweet potatoes. Fat is essential for our bodies to obtain nutrients such as lycopene and beta-carotene in certain vegetables, so don't be afraid of a little fat — you need it!
This dish will instantly brighten up your mood, and it also makes for an awesome and quick breakfast.
---
Honey-Pistachio Baked Sweet Potato
Serves 2
Ingredients
2 medium sweet potatoes
¼ cup honey
2 tablespoons chopped pistachios
½ teaspoon cinnamon
Instructions
Rinse and scrub potatoes. Pierce the outside with a fork all over and place on a microwave-safe plate and microwave on high for 7 to 10 minutes (depending on size).
Heat honey, pistachios and cinnamon on stove until warm, about 1 to 2 minutes. Stir halfway through.
Top each sweet potato with a heaping tablespoon of pistachio mixture.
Product We Recommend For The Month
Piper Lou:Let's Drink Wine And Judge People Stemless Wine Cup
---