Synopsis of the App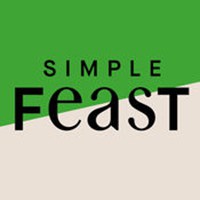 Simple Feast is a mobile destination for healthy and delicious recipes made simply.
Platform and Price
Free with in-app purchases. Apple and Android.
RDN Score:
5 out of 5
Pros
Beautiful, full-color food photography to entice you to eat healthy.
Select from a number of categories including vegetarian, vegan, fish and seafood, meat, breakfast and brunch, breads, alcoholic and non beverages and cocktails, desserts, anti-inflammatory, paleo and gluten-free.
Inventive recipes like Spicy Miso Drumsticks, Farro with Wild Mushrooms, and Roasted Cauliflower with Chickpeas, Feta, and Marinated Red Onions are beautifully presented.
Learn to peel and devein shrimp, zest citrus, and prep garlic like a pro in the professionally produced tutorial videos.
Peruse recipes that are quick and easy or those that cover a specific preparation method like grilling and barbeque.
Add recipe ingredients to your shopping list in one click or add only what you need item by item.
Save recipes in one tap to build and save your personal recipe collection.
Signing in is optional — though required to save favorites.
Automatically saves shopped recipes for easy recall.
Includes recipes from a combination of chefs including one RD chef.
Get curated recipes for specific needs including strength and cardio training, weight loss, pregnancy or breastfeeding.
Offers a free trial with a generous sampling of recipes and high-quality videos.
 Cons
Requires an internet or cellular connection to view the full recipes and videos, which can be a challenge when trying to use the app in some large grocery stores with poor reception.
Free recipes are limited in quantity.
Must create an account to use the shopping list and save features.
Bottom Line:
Simple Feast lives up to its name providing simple, elegant and healthy recipes. Ideal for the novice cook who could use a little extra guidance or veteran cooks seeking flavor and food inspiration, Simple Feast is worth a download.