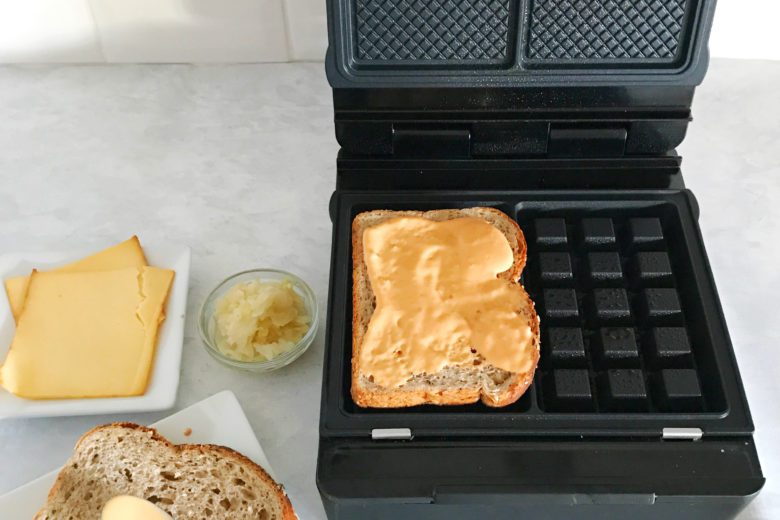 Product reviewed: LAGRANGE Tarti' Gaufres waffle maker
---
On a hunt to create the perfect Pinterest-worthy waffle hash brown, I knew I needed to give the LAGRANGE Tarti' Gaufres waffle maker a go. Trust me when I say my past attempts could have easily made it on the Pinterest fail list. I kept at it though, determined to find the right appliance that would guide me to success.
The LAGRANGE Tarti' Gaufres, a French waffle maker, is a top of the line gourmet waffle maker,  a fun appliance that any aspiring food blogger, recipe developer or average foodie may want to have on hand. I must admit, when I first opened the package, I spent about five minutes trying to place both plates on, but after reviewing the instructions, I quickly learned this is a unique, dual-head waffle maker. The flat plate allows you to create a smooth surface for toppings — nutritionally, I think this is pretty awesome because you won't use an extra ¼ cup of syrup trying to coat those outer edges that don't get syrupy with a traditional waffle pattern.
And the hash brown waffles? They were a hit, and definitely made a social media-worthy photo! I'm still working on adding a few more veggies to them, but the versatility of the flat plate allows me to create a very fun twist on a savory treat. And, as a bonus, you can make paninis and other grilled sandwiches with the flat plates with little to no butter or oil. The only caution I offer is this machine heats up fast! Be sure not to place your hands around its outer edges — I got a little overzealous and set my hand by the side and it got a bit toasty and red. Steer clear while the red light is on!
If you're looking to up your waffle game, I definitely suggest the LAGRANGE Tarti' Gaufres as a must-buy!

 Its versatility, ease of use and the no-mess clean up make it a family favorite that any foodie will get on board with.