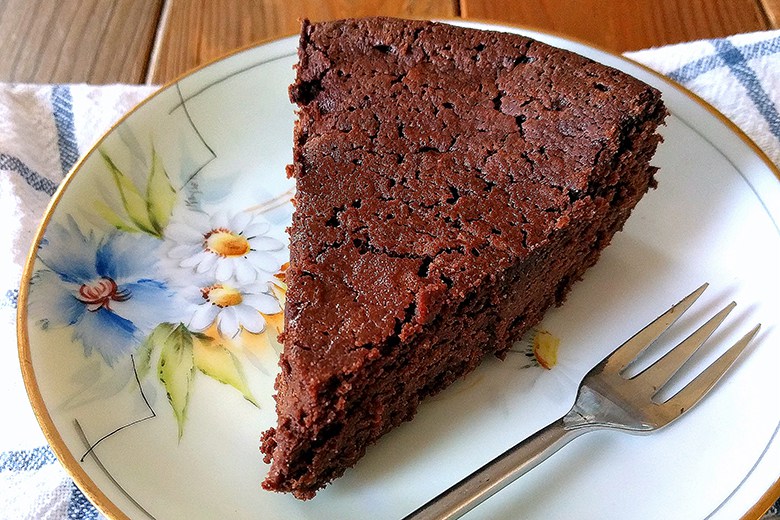 Stout. A​s a baking ingredient, this deep, dark brew is a ​simple yet sophisticated ​addition that can​ dress up the familiar​. ​​Take, for instance, ​c​hocolate torte. I used a strong and spicy double imperial stout — the remnants of a bomber bottle my husband and I didn't dare finish in one sitting. An Irish or chocolate stout or even a smoky porter are excellent alternatives.
The recipe is as decadent and rich as you would imagine a torte primarily composed of butter, eggs and dark chocolate to be. This sweet treat is a plate-lickingly indulgent way to celebrate any special occasion. 
---
Flourless Dark Chocolate Stout Torte
Serves 12
Ingredients
8 ounces dark chocolate, at least 60 to 70 percent cacao, chopped finely with a serrated knife (or use dark chocolate chips)
½ cup + 2 tablespoons butter, left at room temperature for at least 30 minutes, plus extra butter for greasing baking pan
5 large eggs, at room temperature
½ cup stout, (try a chocolate stout, or an imperial stout for a deeper, boozier kick, or porter for a smokier flavor)
½ cup granulated sugar
2 tablespoons pure maple syrup
¼ teaspoon salt
Instructions
Preheat the oven to 350°F with a rack in middle position. Grease an 8-inch springform or round cake pan with butter. Line the base with a piece of parchment and butter that as well.
Place chopped chocolate or chocolate chips and butter in medium metal or heat-proof glass bowl. Set bowl over saucepan of barely simmering water and stir until chocolate and butter are melted and smooth. Remove and set aside to cool briefly.
Whip together eggs, sugar and maple syrup using an electric stand or hand mixer until light and fluffy, about 4 to 5 minutes. With rubber spatula, stir stout into chocolate-butter mixture, then fold in salt and the egg mixture. Batter should be smooth and dark.
Pour batter into prepared tin and place it in oven. Set timer for 40 minutes and check every two minutes thereafter for doneness. (At 40 minutes, the center is usually still quite jiggly.) In total, the torte should bake approximately 45 minutes, or until the center is set enough that it does not jiggle when the pan moves. The top will have formed a thin crust with a nice sheen and slight crackly appearance. (Note: A cake tester will not come out clean, so rely on the visual indicators for doneness.) Remove the torte from the oven and let it rest in the tin on a rack for 10 minutes.​"
When cool enough to handle, carefully remove from tin and cool completely on rack. Torte will deflate slightly.
Slice with a very sharp knife dipped in hot water and wiped dry or sharp serrated bread knife. Serve in wedges at room temperature or chilled (we prefer well-chilled).