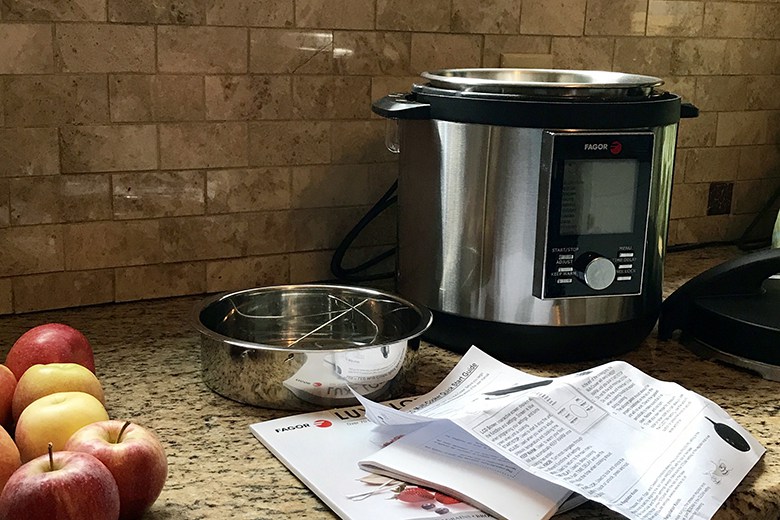 Product reviewed:  Fagor Lux LCD Multicooker
---
The Fagor Lux LCD Multicooker makes one-pot cooking quick and convenient. This appliance has 10 functions to pressure cook, slow cook, steam, brown, sauté and simmer plus one-touch settings to make yogurt, grains, eggs and desserts. This means you can make steel cut oats in half the time, or brown meats and sauté vegetables and go directly to slow cooking chili, stew or pot roast in just one pot. This not only saves time but lots of messy clean up. The multicooker also comes with a steam basket and trivet.
I spent about five minutes unboxing and reading the quick-start guide to get set up. I tested the pressure cooker function with my no-sugar added applesauce recipe (with the skin on!). It took about 30 minutes from unboxing to slicing the apples to cooking to eating. The 6-quart, removable, stainless steel pot is roomy and a breeze to clean. I added three pounds of apples and still had plenty of space to spare.
With the option to set and save custom settings for your family's favorite recipes, the LCD screen makes this multicooker very easy to set up and keep tabs on where you are in the cooking process. Though you still must consider food safety, the multicooker allows up to a six-hour start delay. When the food is ready, the multicooker can automatically switch to the "keep warm" phase, so your meal stays hot.
If you've never used a pressure cooker and shy away from it because of horror stories where food ends up on the ceiling or much worse, a multicooker may be a good place to start. The lid won't even open if there's pressure inside. Fagor also provides a handy guide detailing the times and settings to prepare a variety of foods to help ease into the process.
I can't wait to try out the other functions!
If you're looking for a do-it-all appliance, this multicooker is a winner.

 Though it may not have the same brand recognition as a certain popular one, it performs just as well.