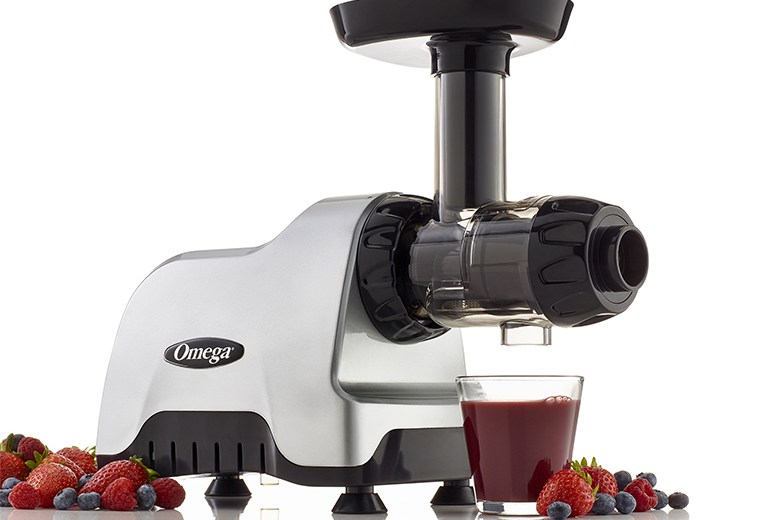 Product reviewed: Omega CNC80S Compact Nutrition System
---
As the months get cooler, I tend to transition from smoothies to juices. I find them more comforting during the winter, especially when using seasonal ingredients such as ginger, apple and carrots. I got so excited when I was asked to review this product, because I've been through many juicers in my lifetime. I love seeing how products such as juicers evolve in function and aesthetic!
The Omega CNC80S Compact Nutrition System is a multi-purpose, low-speed masticating juicer. It can be used to make fruit and vegetable juices, nut and soy milks, nut butters, baby foods, desserts, pasta and more. It comes equipped with different nozzles, which are easily adjustable in the preparation of different recipes.
The first thing I noticed about this juicer was how compact it is. The juicers I've had in the past have been quite bulky, which isn't very conducive to living in a small New York City apartment. I put the Omega on my little kitchen counter and got to assembling. The assembly part is straightforward, since the five attachments that form part of the juicer are all self-contained. There are two assembly options; one for juicing and one for homogenizing. When homogenizing, you have the option of selecting one of five nozzles, which is how you're able to create various things including pasta, ground coffee, nut butters and other really cool foods.
Once assembled, I decided to give the juicer function a go, and whipped up three fruit and vegetable tonics (recipes below). Produce such as carrots, apples and beets have to be cut into small chunks, since the chute opening is relatively small. The first thing I noticed after flipping the on button was how pleasantly quiet this juicer was. There aren't any loud motor or grinding noises. You also don't have to apply much pressure once the foods are in the chute. They pass easily, and you'll start seeing the juice being expelled into the container. You also see the fiber coming out, and in this juicer, the fiber was completely dry, which means no juice going to waste here!
Once I prepared my juices, I easily took apart the juicer. I set aside the fiber to incorporate into stews and soups, and let the removable parts soak in warm soapy water. The juicer came with a small brush for easy cleaning, and within five minutes, everything was clean and set out to dry.
I would definitely recommend this juicer, especially for people living in smaller spaces.

 It's very easy to use and can prepare a variety of foods.
---
3 Immune-Boosting Fall Tonics
Each recipe serves 3

Instructions: Start by washing all of your produce.
Spicy Carrot Juice
Ingredients
3 medium carrots, tops removed
1 medium apple
3-inch piece of unpeeled ginger
Directions
Cut the carrot and ginger into smaller pieces that will fit through the juicer chute.
Discard the apple stem, core and seeds, and cut into chunks.
Juice all of the ingredients. Enjoy!
Sweet Beet Juice
Ingredients
1 medium beet
1 medium pear
½ lime
Directions
Discard the pear stem, core and seeds, and cut into chunks.
Cut the beet and pear into smaller pieces that will fit through the chute.
Juice just the beet and pear, and then finish with a squeeze of lime juice. Enjoy!
Citrus Green Juice
Ingredients
1 cup kale, including stems
1 small cucumber, about 6 inches
1 medium orange
Directions
Chop the kale and stems, and cut the cucumber into pieces that will fit through the chute.
Peel the orange, cut into segments, and put all ingredients through the juicer. Enjoy!