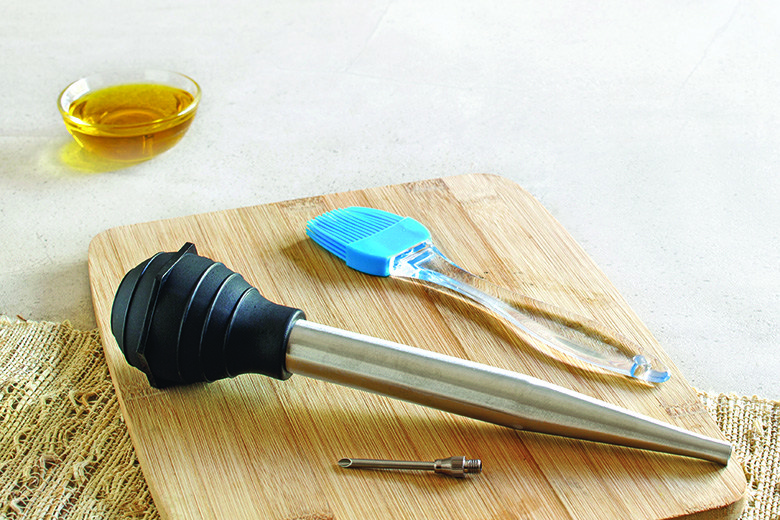 Proper basting is the key to a moist roast or turkey. Fortunately, there is a range of kitchen basters to help seal in juices and drippings, resulting in a flavorful meal.
Kitchen basters include bulb basters, basting and pastry brushes, and combination basters that pair a bulb baster with a needle injector attachment or a brush at the end. In addition, meat and poultry can be self-basted in heat-resistant nylon basting bags. Although these bags are FDA-compliant for safety and get praise from many home cooks, a bulb baster or basting brush may be more appealing to those wary of using nylon in the oven.
Most bulb basters are roughly 12 inches long and have a silicone bulb head attached to a glass, plastic or metal tube that tapers from one end to the other. Desirable features include an angled tube tip to help draw in basting juice, a valve at the end of the tube to stop juices from leaking, and a detachable tube tip to allow for easier cleaning.
Cleaning a bulb baster can be challenging, but a narrow cleaning brush can help and often is sold with this type of baster. In addition, the bulb can be removed from the tube and tip. All parts are usually safe for the top rack of the dishwasher.
Another option for basting meat and poultry is a basting or pastry brush, but it does not retrieve as much of the juices as a bulb baster. Choose a brush baster with multiple layers of heat-resistant silicone bristles to hold liquids as they are transferred to food. Most basting brushes are dishwasher-safe.
Both bulb and brush basters are economical kitchen tools, costing between $5 and $15.
To baste meat or poultry, remove it from the oven and shut the door so heat doesn't escape. Refer to recipes for exact basting times; as a general guideline, baste a large turkey every 30 to 45 minutes, smaller pieces of chicken every 15 to 20 minutes and barbecue meat every 15 minutes. Always wear oven mitts when basting to protect skin from hot juices that may splatter. Work quickly to prevent temperature and moisture loss.
Beyond meat, a kitchen baster can be a handy tool. Use a bulb baster to remove fat from liquids and food, make fun shapes with pancake batter or infuse flavoring into fruits and other foods. Basting brushes also are versatile: Use one to oil a pan or baking sheet, spread butter and roasted garlic on toasted bread or baste vegetables on the grill.