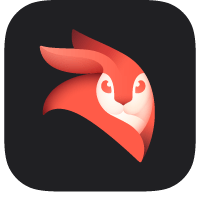 Synopsis of the App
Enlight Videoleap is a feature-rich video editor app that includes standard editing features like trimming and adding fonts, different effect, and transitions in addition to the ability to layer, blend and mask content.
Platform and Price
Apple only. Free to start. Pro version up to $139.99/year.
RDN Score
4 out of 5
Pros
User-friendly design and confidence-building, non-destructive editing.
App immediately opens to a new project workspace and displays essential editing tools first.
Easily add photos and video clips from the camera roll or add stock content to create a new project.
Export using 360 to 1080p resolution.
Set the frames per second from 24 to 60 to control the cinematic feel of a project.
Includes standard editing tools including trim, split, flip, transform and mirror, color correction and audio controls.
Easily add and edit text with different fonts and 100 different sound effects.
Get creative with the ability to add custom layers or reorder clips, effects, text and images.
Apply blending and masking modes to customize layers and make use of green video options.
Apply seamless transitions between clips.
Select and customize backdrop colors.
Review tutorials for all features.
The free version is fully functional but upgrade to the pro version for unlimited layers and other effects and features.
Cons
Not all features are intuitive and may take a few tries to fully understand how it works.
Videoleap Pro can be expensive at up to $139.99 per year.
Bottom Line
Videoleap is easy enough for beginners to cut and combine clips for quick videos and advanced enough for professionals who want to create more styled and creative final projects on the go.