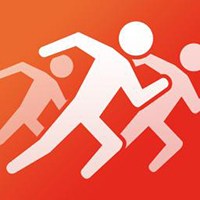 Synopsis of the App
Charge Running is a virtual run club that's ready whenever and wherever you are.
Platform and Price
Apple only. Free 30-day trial; thereafter $9.99/month or $84.99/year.
RDN Score
5 out of 5
Pros
User-friendly design that engages runners at every point starting with an interactive demo targeting first timers.
Access a variety of runs and test different trainers to find the running style and coach that works for you.
You'll hear the coach welcome you and all others to the run by name (if you enable GPS tracking). He or she will also cheer you on at critical points during the run.
Includes runs at different times during the day.
Watch the run leaderboard to stay motivated and challenge fellow runners.
Listen to music while getting tips and encouragement from trainers.
See how many people are signed up for a run before joining.
Review the calendar and sign up for runs throughout the week.
Get notifications to alert you to the start of your run.
Connect to HealthKit to access your heart rate while running and add the activity data automatically.
Run theme examples include Friday Fun Run, Fun Facts Friday, Intervals and Wacky Wednesday to keep you engaged. You can also race for distance, which challenges the group to run as far as possible.
Follow your favorite trainers to be sure you don't miss your favorite runs.
Trainers specialize in different running styles with some targeting treadmill runners, hill lovers or interval runs.
Choose on-demand (stored) runs that range from light, moderate, hard or extreme.
Sign up using Facebook or email.
Easily share run results to social media when you finish.
Generous 30-day free trial leads to a monthly or annual subscription for unlimited access: $9.99/month or $84.99 for the year.
Cons
Available on Apple only at the time of this review.
Live run times may not be convenient across all time zones.
Must allow location/GPS tracking to track your run and get live feedback.
Can only sign up for and view runs that are one week out.
Bottom Line
Charge not only makes running more fun with an interactive live trainer, it also helps keep you motivated to keep going and return for more. Never run alone again.