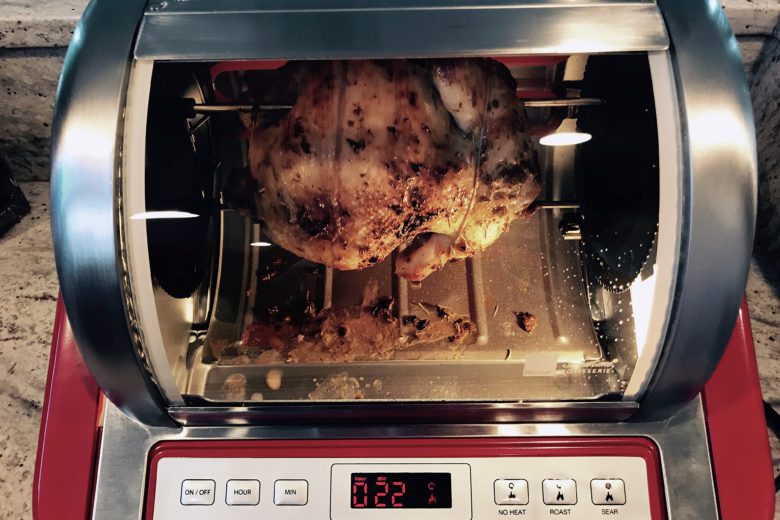 Product reviewed: Ronco 5250 Series EZ-Store™ Rotisserie
---
When I was a younger lass, I remember seeing commercials for the Ronco Rotisserie, and I always dreamed of owning one of my own. I actually asked my parents for one before moving into my college dorm because I thought it would be a great device to cook a variety of foods in a small living space, but I got a toaster instead. Darn. When I was given the opportunity to finally cook chicken my favorite way, it was a dream come true.
The Ronco 5250 Series EZ-Store™ Rotisserie is a countertop rotisserie for the home cook. It is made to be broken down for easy storage, can cook a variety of foods including fish, vegetables and hamburgers and has removable, dishwasher-safe parts. It has a simple push-button display with settings for roasting, searing and no-heat rotation (for allowing meat to rest).
As I opened the box, I was pleasantly surprised to feel how light it was. There was some assembly required, but the instructions made it a breeze. My rotisserie came in a beautiful race-car red color with additional accessories including a multipurpose basket, carving platform, oven gloves and food ties. This device is made to cook food to the perfect temperature and tenderness by sealing in the natural juices with a self-basting feature and catching excess fat drippings in a removable tray. 

 To test the rotisserie, I opted to make tilapia and a whole 8-pound chicken. I prepped both my chicken and tilapia with a basic dry rub of cracked black pepper, sea salt, garlic powder, dried thyme and fresh lemon zest. I did not add any fat and it was not needed to yield a great-tasting product. I placed the chicken on the spit and put the tilapia in the basket. The instruction book provides cooking time guidance. My chicken was juicy and golden brown, and the drip tray had about ⅛ cup of liquid and fat in it. The tilapia turned out perfect as well and wasn't dried out. I really feel this product is great to cook large pieces of meat.
There are some things to note: I recommend being mindful of the sharp spit ends when placing proteins, and also tightly tying or trussing meats before placing them on the spit because it's important your food doesn't touch the heating element. One drawback was having to cook each protein separately because the spit and basket cannot be in the machine at the same time. The entire machine also will be very hot to the touch when cooking, so I recommend using the provided gloves when removing food from the device as well as letting it cool completely before cleaning.
I would highly recommend this product to the home cook who struggles with cooking meat in the oven or on a grill. It will reduce fat content in the protein for a healthier meal without compromising moisture and tenderness.