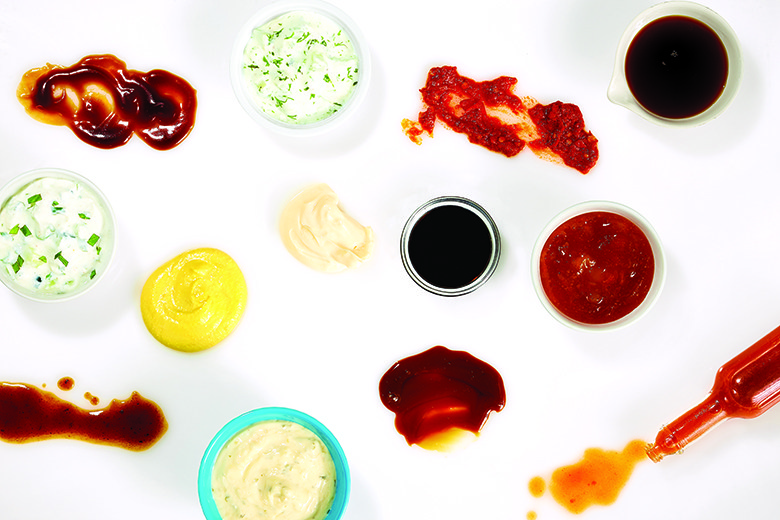 Not long ago for people in the U.S., the word "condiments" brought to mind standard ketchup, mustard and mayonnaise. But more recently, condiments from around the world have surged in popularity, making salsa and Sriracha as common as steak sauce.
The first known use of the word "condiment" dates to 15th-century England and France, where it was derived from the Latin word condire, meaning "to season." Today, a condiment is defined as "something used to enhance the flavor of food, especially a pungent seasoning." This broad definition encompasses an array of sauces, spreads, pastes, dips and dressings to please the palate.
The best-selling condiment in America is mayonnaise ($2 billion) followed by ketchup ($800 million) and soy sauce ($725 million), according to a Euromonitor report based on annual sales in 2013. Hot sauce sales are surging in part due to the rise in Asian and Latino immigrants seeking to re-create traditional spicy cuisines, and because of younger consumers who have adventurous palates and an affinity for fiery foods.
Many condiments add taste appeal and scant calories to healthful foods such as lean proteins, whole grains and vegetables. Certain condiment components come with potential health benefits. For example, there are reported uses of capsicum (also known as red pepper or chili pepper) for a range of conditions including digestive issues and pain relief. In 2009, the U.S. Food and Drug Administration approved a patch containing capsaicin, the active ingredient in capsicum, for long-term pain relief after shingles attacks.
Although typically used in small amounts, condiments can contain a large amount of sodium. For instance, a mere tablespoon of soy sauce has 879 milligrams of sodium, and even reduced-sodium versions can contain 500 milligrams or more. Consumers with food intolerances or allergies should diligently check condiment labels for reaction-inducing ingredients, such as wheat in soy sauce and fish (anchovies) in Worcestershire sauce.
Ketchup
The popular companion to burgers and fries usually is made with a tomato base, vinegar, sugar and spices. Artisanal versions of ketchup feature ingredients such as ginger, habaneros or black truffles.
Rémoulade
Mayonnaise, mustard, capers, gherkins, anchovies and herbs make up this classic French sauce, which is served cold. It is delicious with shrimp or crab cakes or on a roast beef sandwich.
Chimichurri
This thick and spicy Argentinian sauce made from green herbs, such as cilantro and parsley, gets its kick from cayenne and black pepper. It is traditionally served with grilled meats, but also can be tossed with whole-grain pasta.
Wasabi
Made from the Japanese horseradish root, wasabi is well-known as the green, pungent paste accompanying sushi. The version served in the U.S. usually is not true wasabi, but rather a mix of horseradish, mustard and food coloring.
Mustard
This zingy spread is a mix of finely ground mustard seed, liquid (such as water, wine or vinegar) and spices. Yellow American-style mustard is milder than tangy Dijon or spicy brown. Whole-grain mustard contains partially ground mustard seeds and is a pungent accompaniment to a cheese plate.
Soy Sauce
This salty brown staple in Asian cuisine is made from fermented boiled soybeans and roasted wheat or barley. Mix a few drops with mayonnaise for a flavorful sandwich spread.
Ranch
This tangy-sweet dressing is made with buttermilk, mayonnaise, sour cream, garlic, herbs and spices. A traditional choice for salads and vegetables, ranch is a good baked potato topper.
Salsa
Super-popular salsa is made of tomatoes, onions and hot peppers and comes in a variety of spice levels. Serve it with tortilla chips, or go bold by blending salsa with goat cheese for a crudité dip.
Gochujang
A thick and spicy red chili bean paste made with dried chilies and fermented soybeans, gochujang adds a kick to many Korean dishes.
Sweet Chili Sauce
This sweet Thai dipping sauce is made with sugar, red chilies, vinegar and garlic. Often paired with finger foods such as wontons, spring rolls and egg rolls, it also pairs well with grilled chicken or fish.
Prepared Horseradish
Sinus-clearing white-beige horseradish contains grated horseradish root mixed with distilled vinegar; the pink-red version is mixed with beets. A small spoonful adds zing to dishes such as a root vegetable mash.
Harissa
Garlicky Tunisian harissa gets its heat from hot chilies and also contains cumin, coriander and caraway. Traditionally served with couscous dishes, it also adds bold flavor to other foods.
Tamari Sauce
Similar to soy sauce, mellow-flavored tamari also is made from fermented soybeans but often without wheat, meaning many brands are gluten-free.
Worcestershire Sauce
First bottled in 1835 in Worcester, England, this piquant condiment's long list of ingredients includes vinegar, molasses, sugar, anchovies, garlic, cloves and tamarind. Combine it with honey for a savory-sweet dipping sauce.
Yeast Pastes
Popular for decades in Australia, Vegemite is a dark brown salty paste made from yeast extract and promoted for its vitamin B content. Eat it the Aussie way on morning toast. Marmite — a similar yeast extract paste — is popular in Britain.
Pappadam Chutneys
Indian papad — large, thin, disc-shaped crackers — typically are served with saucy chutneys, which can be smooth or chunky, sweet or spicy and range in ingredients. A popular trio is sweet, dark brown tamarind chutney, somewhat-spicy green chutney made with cilantro and mint, and spicy-hot mango chutney.
Hot Sauce
Chili peppers are the common ingredient in hot sauces. Traditionally made with very hot red tabasco peppers, vinegar and salt, hot sauce varieties now come packed with jalapeño and habanero, for example, with varying degrees of heat. Thicker Sriracha sauce originated in the Thai town of Si Racha.