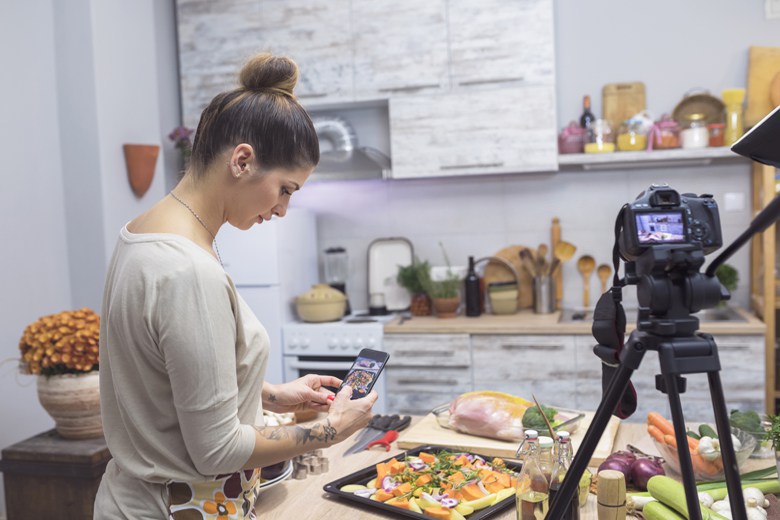 It was the summer of 2015 when Facebook was taken by storm by a media company's delicious hands-in-pans videos. Fast forward to the fall of 2017, and this company has more than 91 million Facebook followers. The power of video has taken hold, and it's not letting go anytime soon. Because of this success, bloggers everywhere are now trying to get a slice of the video pie.
Facebook has more than 100 million hours of video watch time per day. Video expands reach and drives traffic to websites. Hubspot reports video will compose 74 percent of all internet traffic for 2017 and 80 percent of global internet traffic by 2019. Video is not going away, and it's only going to get bigger and better.
As dietitians, video is something we cannot ignore.

 It's such an incredible opportunity to inform, influence and inspire. As the nutrition experts, dietitians have a unique opportunity to embrace video and share healthy recipes or evidence-based messages. If you want to create and optimize video content for your business or private practice, you can find resources to help guide you through the process. Planning, filming and producing good video content takes time and effort. These tips can help get you started on the road to video content creation.
Assess Your Time
Creating and producing video content is time consuming, especially in the beginning. If you don't have the time, you may think about hiring someone to do it for you.
Know Your Purpose
Do you want to create hands-in-pans style food videos? Do you want to do nutrition education or teach online classes with video? Do you want to start with live streaming? Think about who you want to reach and how you can create a solution to their problem when it comes to food and nutrition. Ask your audience what they would like to see. You'll know your purpose when you know what your audience wants.
Learn About Video
Video has a large learning curve, and it's important to have good resources to learn about the process. A couple of dietitian-centered resources are my Facebook group, Making Food Videos for Dietitians, where I answer questions, share articles and tips and showcase members with a Video of the Day prompt. And here on Stone Soup I'll be doing more vlogs and posts that focus on different aspects of video production for dietitians.
Have the Right Equipment
It doesn't have to be expensive. A camera, tripod and software is the bare minimum for creating video content. If video content is something you continue to use, you may want to invest in more equipment, such as lighting, better software and props.
Set a Date
Video can be an intimidating venture. Give yourself a couple of weeks or a month to learn and then set a date for filming, producing and releasing your first video. Having a concrete date helps you get on the road to video creation.