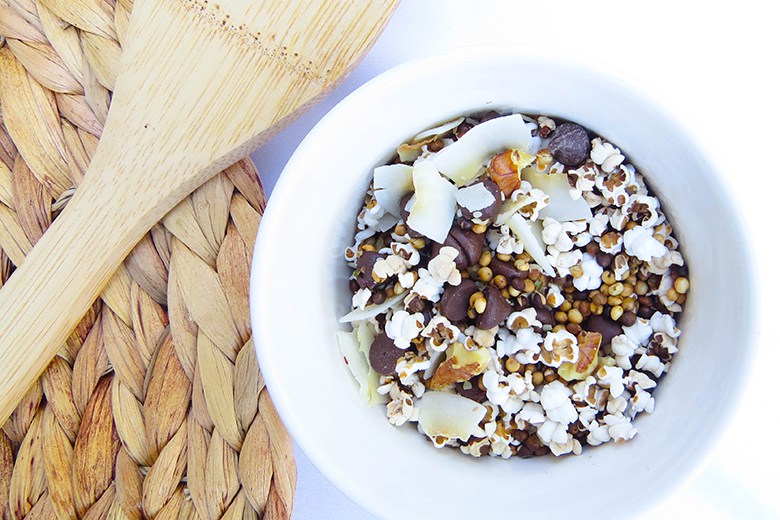 I am sorghum obsessed, so I want to share with you what it is, why I love it and how you can incorporate it into your diet.
What is Sorghum?
Sorghum is a cereal grain that grows tall like corn and is one of the top five cereal crops in the world. Sorghum has been growing in Africa for hundreds of years.
Why do I Love Sorghum? 5 Reasons …
It's so versatile. You can use sorghum in place of rice, quinoa and pasta.

 You can find it at the grocery store in whole or pearled form, as a flour, syrup and bran, as a product similar to popcorn or even as flakes! It is a grain that you can get creative with — great for any meal or snack.
It's very nutritious. Sorghum is a nutrient-dense food with many health benefits. It provides protein, vitamin B6, magnesium, phosphorus and fiber, all of which play a major role in helping various parts of your body — such as your digestive and cardiovascular systems — to function!
It's naturally gluten-free. Sorghum is safe for people who suffer from celiac disease or gluten intolerance. Be sure to read the food label. Sometimes manufacturers mix a variety of ingredients with sorghum that may not be gluten-free.
It's easy to use. You can prepare sorghum as a delicious side dish or as the base for a meal. Sorghum is easy to cook using an oven, stove top, slow cooker or rice cooker. It can even be frozen and then reheated without losing its great taste.
It has antioxidant powers. Certain types of sorghum are rich in antioxidants. Research suggests that it may help lower your risk of cancer, diabetes, heart disease and some neurological diseases.
 3 Easy, Nutritious Ways to Give Sorghum a Try:
Boost your grain intake and sprinkle sorghum on your favorite salad!
Need something crunchy to munch on? Sorghum can be popped just like popcorn! So awesome.
It's soup season. Make yours more nutrient-dense by adding sorghum!
---
Popped Sorghum Trail Mix
Serves 4
Ingredients
¼ cup sorghum
¼ cup coconut shreds
¼ cup dark chocolate chips
3 tablespoons hemp seeds
¼ cup walnuts
Instructions
To pop sorghum: Heat a pot with a tight fitting lid over medium high  heat. When hot, add sorghum and cover with lid.
Cook, shaking the pot often, until sorghum begins to pop. Remove from heat when there is more than 10 seconds between pops.
Combine all ingredients. Pack in airtight container or sealable plastic bag. The trail mix will keep for up to two weeks.
I hope I've inspired you to give sorghum a try. Don't forget, it is very important to make half the grains you consume "whole." Your body will thank you.