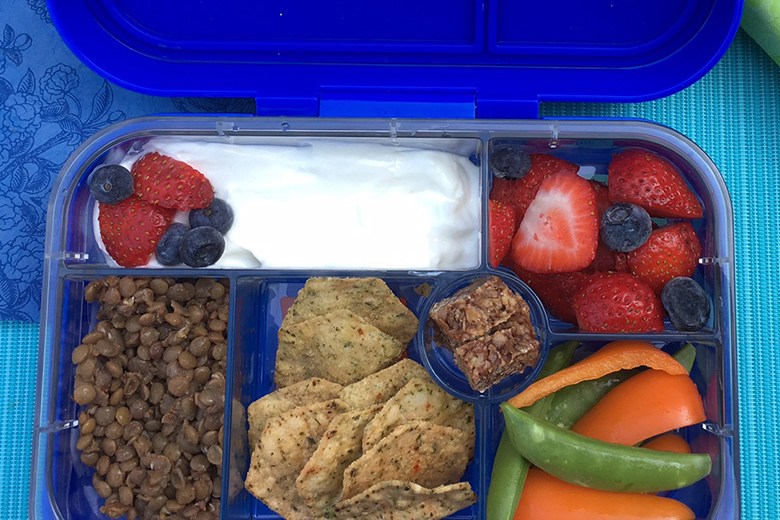 Product reviewed: Yumbox Original lunchbox
---
I pack weekday lunches for my two school-aged kids, so I'm always looking for ways to streamline the process. I've been using a bento box-style lunchbox, but it has six separate containers and lids to wash after every use — it's a pain! I wanted to try the Yumbox because, with only two pieces, it seemed a lot more convenient.
The Yumbox Original has a clear plastic lunch tray inside a hard-shell lunch box. The one-piece tray has six compartments, which are labeled on the bottom with smart reminders for packing a balanced lunch: vegetables, protein, grain, etc. The lid is lined with silicone, which meets the lip of the tray when the lunchbox is closed. That means no spills or mess — as in, the yogurt won't drip onto the crackers.
I packed lunch for my 6-year old in our new Yumbox. It was perfect for him because, like many kids, he prefers that foods don't touch each other. His lunch always has a bit of everything — vegetables, fruit, whole grains, protein and a little treat — and the compartments gave me the perfect outline to build a healthy lunchbox. However, it's not the right size lunchbox for a sandwich, unless you creatively cut the sandwich into cubes or sticks.
Once packed, the first test was to see if my little guy could open the lid by himself. Success! In the past, we've struggled with hard-to-open lunch boxes, which is problematic during a 15-minute lunch period with one busy staff supervisor and 30 kids requiring assistance. This was easy to open and fit perfectly beside an ice pack in his rectangular insulated lunch bag. He also totally loved the cool design and the pictures inside the box — ours has rockets and planets, and four other designs are available.
After my son enjoyed lunch, I noted two things.
The lunch box was a bit small for his appetite. The Yumbox Original is suggested for children aged toddler to 8 years, but my 6-year-old was still hungry after eating his whole lunch. I think it's more suitable for kids on the younger end of the age range.
Clean-up was super-simple, since the lunchbox is just two pieces. It washed easily with dish soap and water and also is dishwasher-safe on the top rack. I love that I didn't have to wash six containers and lids or worry about losing lids!
The Yumbox is a fantastic lunchbox for your little ones, and a great tool for teaching kids about eating a balanced meal and reminding busy parents what to pack.