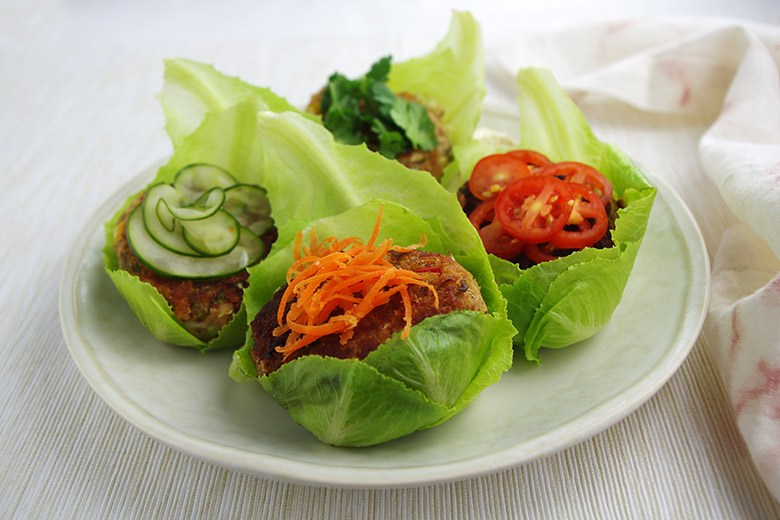 An Asian-inspired veggie burger made with pink beans, Asian veggies and Kikkoman Less Sodium Soy Sauce marinade, then grilled and served in a lettuce wrap.
This sponsored recipe is brought by Kikkoman® as part of Food & Nutrition's Recipe Roundup program. Click for more recipes.
---
Recipe by Natalie Rizzo, MS, RD
Ingredients
2 tablespoons vegetable oil, divided
1 cup chopped bell pepper
¼ cup chopped scallions
2 cups pink beans, drained and washed
1 cup chopped green cabbage
2 tablespoons Kikkoman® Less Sodium Soy Sauce
1 teaspoon garlic powder
2 tablespoons Kikkoman® Rice Vinegar
⅔ cup panko
1 large egg
4 romaine lettuce leaves

Directions
Add 1 tablespoon of vegetable oil to a large saute pan and heat for 2 minutes. Add the peppers and scallions and cook for 4 to 5 minutes. Remove the veggies from the pan and set aside to cool. Add the beans to a food processor and process until smooth. In a large bowl, combine the cooled pepper and scallion mixture, mashed pink beans, cabbage, soy sauce, garlic powder, rice vinegar, panko and egg. Stir the mixture until well combined. Cover the bowl with plastic wrap and chill in the fridge for at least 1 hour. After the mixture is chilled, use your hands to form burger patties (about 4-inch diameters). Heat a saute pan over medium high heat and add the remaining 1 tablespoon of vegetable oil. Add the patties to the pan and cook over medium heat for 4 to 5 minutes and then flip and cook for an additional 4 to 5 minutes. Serve each on a piece of romaine lettuce. Serves 4.
Nutrition Information
Serving Size: 1 burger
CALORIES 278; TOTAL FAT 9g; SAT. FAT 2g; CHOL. 46mg; SODIUM 335mg; CARB. 39g; FIBER 6g; SUGARS 3g; PROTEIN 12g