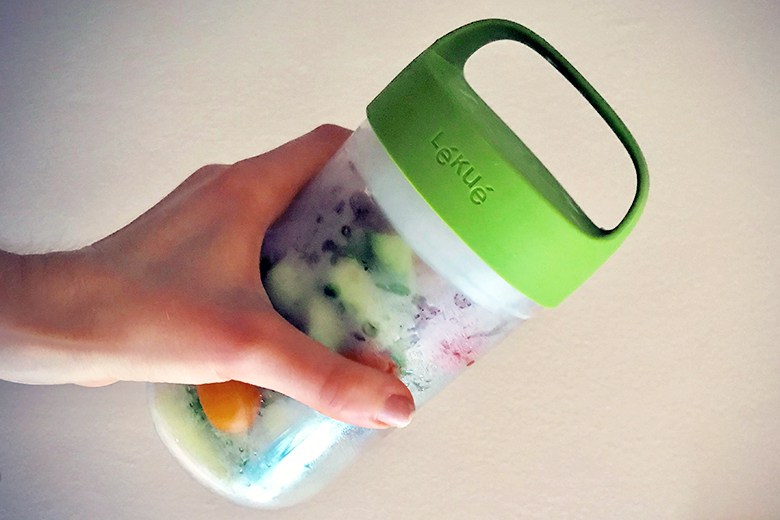 Product reviewed: Lékué Jar To Go
---
As a busy New Yorker who wears a lot of hats in my professional life, I'm all about finding ways to make healthy on-the-go eating easy. My kitchen cabinets are stacked with all manner of reusable containers. I don't have time for messes, and I hate shelling out big bucks for things I could easily make myself, so I always have my eye open for new containers to use in my own life and to recommend to my clients who are trying to make that meal-prep thing a lasting habit.
This jar from Lékué is an adorable alternative to other reusable containers that help make healthy eating and meal prep more appealing.

 Made of BPA-free plastic, it's safe for use in the microwave for up to two minutes, and appropriate for temperatures up to 212°F and as low as -4°F. The model I reviewed was the 20-ounce, but this also is available in a 14-ounce size. It's comprised of the jar, a lid and an interior cup that can be adjusted to suit different proportions of what you're storing in it — this is key if you want to keep wet and dry ingredients separate!
I loved the simple design because it's lightweight yet durable. It didn't spill or leak even when getting jostled around in my bag. Something that's dishwasher-safe or at least easy to clean by hand is essential for me, and this is both! The jar came with a little guide with suggested meal and snack ideas and visual examples — love that!
I found that the best uses for this were overnight oats and for putting yogurt and berries in the bottom and then something crunchy in the cup on top. It's also great if you want to make an on-the-go smoothie bowl or "nice" cream parfait and tote some seeds or granola to sprinkle on top. I also enjoyed using the jar for sliced veggies and hummus or guacamole for savory options. I don't love eating hot foods out of plastic, but if you wanted to put soup or chili in the cup and carry crackers to put on top, this would also be good for that.
While it's not a deal breaker, it would be great to have utensils to go with this — even a fold-up spork that tucks into the lid or that can be snapped to the side could be helpful for people who are trying to keep things as streamlined as possible. I would also love to see lines to measure volume so that it's possible to measure how much of a certain food or liquid you're adding. The size might make it hard to practice good portion control for someone who likes to see a lot of food in the container they're eating from.
Overall, I think this jar is super-handy for eating healthy on-the-go and makes a great addition to any healthy living routine.