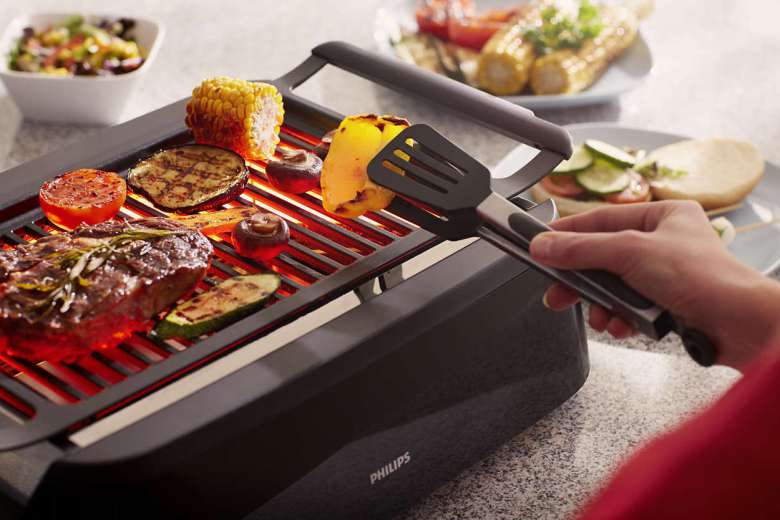 Product reviewed: Avance Collection Indoor Grill by Phillips
---
Sometimes this girl just needs to grill, and that can be a tall order when you live in Chicago! Winters here can be brutal and, since I live in an apartment with a small deck where the wind is always blowing, grilling can be quite a hassle. But I love the flavor of grilled food and I appreciate the simplicity of it. Plus, it's a healthy option for cooking food. What's this Windy City grilling fanatic to do? How about test out an indoor grill — specifically, the Avance Collection Indoor Grill by Philips.
First things first, I know that a grill pan also can be a great way to grill indoors, and I love the simplicity of that, too. But my grill pan is pretty small and doesn't always produce great results. I was intrigued by Phillips' new indoor grill because the grilling surface was larger than my grill pan, and because it claimed to be almost smokeless. A perfect solution for grilling inside!
The grill comes ready to go and the instructions are relatively clear. There are two functions to the grill, a warming function and grilling. Pretty straight forward. I washed all of the parts as instructed, warmed it up and got started. My first attempt was grilling vegetables. The result? Awesome! I had no trouble getting the veggies on or off the grill, and there were plenty of gorgeous grill marks. I even tested it to see if grilling the vegetables without oil worked and it did — they didn't stick at all. The next attempt was marinated shrimp. I removed the shrimp from the marinade and blotted off extra moisture. I cooked them for a few minutes on each side and they turned out well. I used medium-sized shrimp, but wished I had used larger so that I could cook them a bit longer. The flavor was good, but they didn't necessarily feel "grilled." The final test was a dry-rubbed skirt steak. This had the most potential to smoke, but halfway through cooking time, there wasn't a single whiff. In fact, the skirt steak turned out beautifully.
Cleaning was relatively easy, too. The grill top can be removed and washed in the sink, as can the drip tray. The parts that are hardest to clean are the inner metal sides of the grill. The manual claims you can use a ceramic spatula to clean this, but I didn't have one, so I tried cleaning with a sponge, water and soap. That didn't work, so I guess I'll have to buy a ceramic spatula for cleaning oil splatters.
This indoor grill can be a great grilling solution for anyone who doesn't have the outdoor space for a full-size grill. 
 It also has the added benefit of being mostly smokeless, which means perhaps fewer carcinogens. While it doesn't exactly mimic a real gas or charcoal grill, it does a pretty decent job as an alternative indoor cooking method. It grills veggies well and I liked how it handled beef. It's fairly easy to clean most parts of the machine. To have fully won me over, the company would've provided the ceramic spatula and provided a better storage solution as the grill, without a lid, is somewhat awkward to store with other kitchen items.