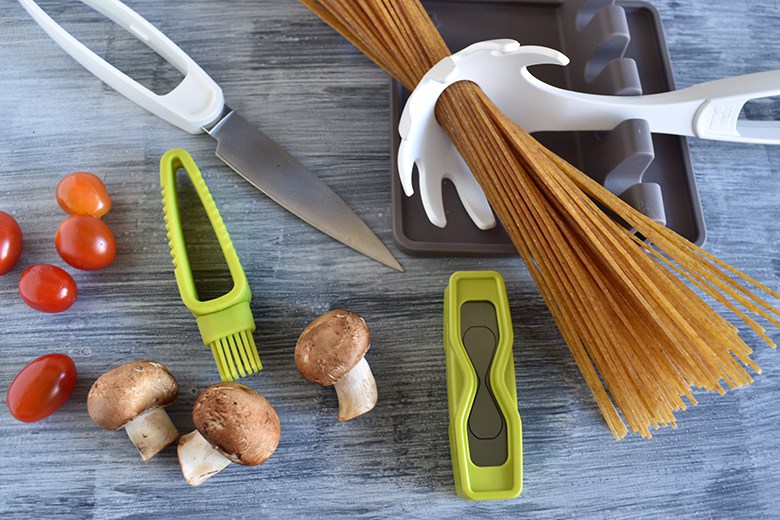 Products reviewed: Tomorrow's Kitchen Pasta Spoon + Timer, Vegetable Knife + Brush and Utensil Rest
---
I'm always interested in innovative kitchen tools that make cooking at home easier. As the daughter of an Italian immigrant, I enjoy the tradition of cooking from scratch and eating as a family. And, of course, I'm a pasta lover. For those like me who love pasta but worry about eating too many carbs, we know that measuring serving size is key, and that including vegetables to serve with the pasta makes the dish more healthful. Finally, cooking pasta al dente contributes to a lower glycemic index in your meal.
That's why I loved the concept of Tomorrow's Kitchen tools. The Pasta Spoon + Timer, made to be a two-in-one tool, actually does three tasks:
The center hole in the spoon measures a 3-ounce serving of spaghetti
Keeps track of cooking time with a digital timer that is stored in the handle when not in use
And, of course, it grabs and serves pasta
What I like the most about the pasta spoon is the measuring feature. Now I don't have to figure out how to use leftover pasta as I can cook the right amount for one meal.
The Vegetable Knife + Brush is a stainless-steel blade with a built-in silicone brush in its handle — perfect to clean potatoes, mushrooms and other vegetables before preparation.
The Utensil Rest is a non-slip silicone mat with raised edges and notches to place up to four cooking tools to keep your countertop clean and organized during cooking.
In the recipe below I used two spoon measures of pasta and added vegetables, which stretched the yield to serve 3. My only minor complaint is that I would prefer that the digital timer came with instructions. It defaults to 12 minutes, but after investigating the tool, I found it could be adjusted — you pull the timer down to the left to take a minute off (most pasta is done al dente in 9 to 10 minutes). Also, make sure to remove the timer when using the pasta spoon as it is not waterproof. The knife is very sharp and the built-in brush is extremely convenient, and both features worked great with the baby portobello mushrooms in my recipe. Lastly, the utensil rest is very handy as its size is adequate to hold regular size utensils and, like the other tools, it is dishwasher-safe.
Made of good quality materials and creative design, I definitely suggest these multi-function kitchen tools to help you cut down on kitchen clutter while making at-home delicious cooking easier. 

---
Whole-Wheat Pasta with Portobello Mushrooms, Tomatoes & Arugula
Serves 3
Ingredients
6 ounces whole-wheat spaghetti (2 measured servings using the Pasta Spoon + Timer)
¼ cup chopped, shelled pistachios
2 tablespoons extra-virgin olive oil
1 cup baby portobello mushrooms, cleaned and chopped (I used the Vegetable Knife + Brush to thoroughly clean and chop mushrooms)
1 cup grape tomatoes
1 clove minced garlic
¼ teaspoon kosher salt
¼ teaspoon freshly ground black pepper
1 cup arugula
3 tablespoons shaved Parmesan
Directions
Cook spaghetti in large pot of boiling salted water for 9 minutes, stirring occasionally.
Meanwhile, toast pistachios in a large skillet over medium heat until fragrant and lightly brown. Remove from skillet and set aside.
In the same skillet heat olive oil. Add portobello mushrooms and sauté about 1 minute until golden brown.
Add tomatoes, garlic, salt and pepper and sauté 3 more minutes.
Add arugula and turn off the heat.
When pasta is done, drain well and add to the skillet along with pistachios and toss to combine.
Serve immediately with shaved Parmesan on top.