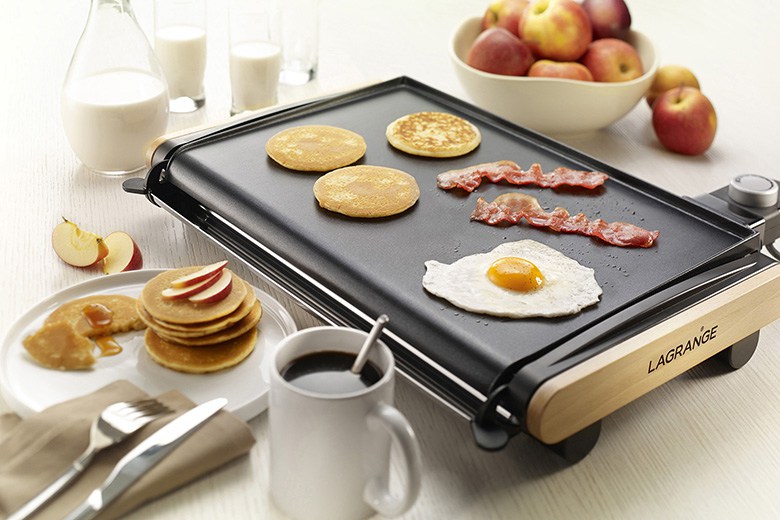 Product reviewed: Lagrange Plancha
---
Even when I'm cooking for just my family of four, I manage to run out of space on my stove. That's why I was excited to try out this electric griddle. Lucky for me, it came just in time for latke-making last year. Traditionally, potato latkes are fried in oil. They stink up the house a bit, so I try to cook as many as possible at once and reheat them during the holiday. With the griddle, I was able to make latkes on the stove and griddle at the same time. My daughter tended to the stove, while I manned the griddle on the other side of the kitchen.
Results? The sloping plate of the griddle ran the cooking oil right into the grease collector but, because of the non-stick surface, my latkes cooked evenly without the need for oil, making them much lower in calories but also less crispy and less traditional. They were tasty, though, so I'll probably use the griddle for some latkes again this year, but I'll know not to waste the oil.
I also tested shrimp and vegetables on this griddle, and the results were so good that I'll continue to use it for those foods. The surface is large enough to cook nearly two pounds of shrimp tossed with oil and seasonings. My sliced bell peppers and onions, also tossed with oil and seasonings, finished with a nice light grilled taste that I can't duplicate in my nonstick fry pan.
Other experiments? Fried eggs and French toast came out well on the griddle, but some of my scrambled eggs found their way into the grease collector because of the product's slope.
The only real downside to the Lagrange Plancha is its size. It takes up a good bit of storage space, but this also can be a positive. The cooking surface is about 17 by 11 inches, making it plenty big for a large batch of latkes, French toast, shrimp or any family favorite.
The griddle is attractive with varnished wood handles and easy to use and clean. It comes with a small recipe book that includes recipes for shrimp, salmon, chicken and more. It's a nice way to extend the cooking surface of a college student's small kitchen or busy family's larger kitchen.

It's especially handy for anyone looking to minimize fats during cooking.