All recipes that appear as HealthStylz editorial content are developed by paid assignment only. Developers submit ingredients in metric weight, U.S. Customary units and, when applicable, metric volume units. While weight values are cross-referenced with the USDA National Nutrient Database for Standard Reference to test for significant discrepancies, developers' values are used for nutrient analysis.
Metric measurements are rounded per the following convention:
Values less than 1 are listed as <1.
Values less than 10 are rounded to the nearest 1.
Values of 10 to 99 are rounded to the nearest 5.
Values of 100 or more are rounded to the nearest 10.
HealthStylz adheres to the definitions and descriptions listed in Recipe Nutrient Analysis: Best practices for calculation and chemical analysis (Culinary Nutrition Publishing 2015) Table 6.6: "Common Cooking Terms," including:
Cube (cut into ½-inch cubes)
Dice (cut into ⅛- to ¼-inch cubes)
Julienne (cut into long, thin strips, matchstick-like in shape)
Mince (cut into tiny pieces)
Shred (cut into narrow strips with a knife or grater)
HealthStylz recipes are developed by Stone Soup guest bloggers who receive special training in writing, recipe development and nutrient analysis. Throughout the year, editors disseminate a call for original recipe pitches, and submissions are collected, tabulated and de-identified for blind internal review through which recipes are selected for assignment. Learn more about our guest blogs.
HealthStylz recipe developers use Escali® Arti Glass Digital Food Scales generously supplied by the manufacturer.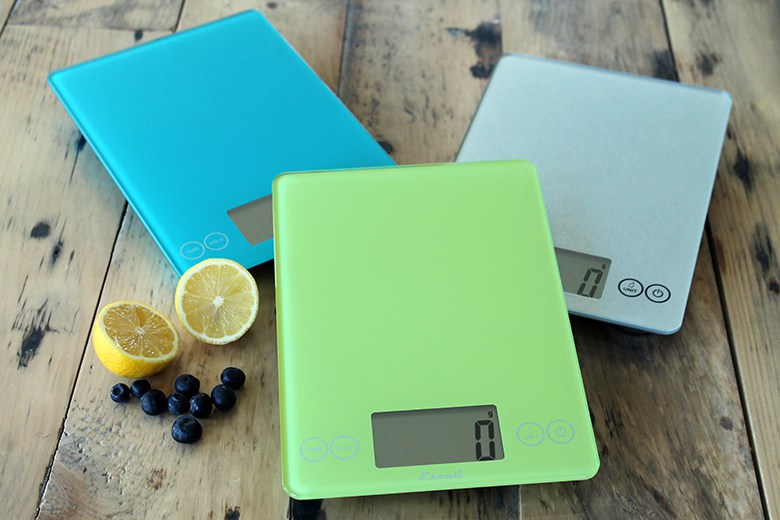 Learn more at https://escali.com/scales/kitchen-scales/arti-glass-kitchen-scale.
Recipe Nutrition Information
Nutrition content of recipes that appear in HealthStylz is calculated by a registered dietitian nutritionist. Due to variations in ingredients and measurements, values are approximations.
Analyses do not include optional ingredients, garnishes, fat used to grease pans or suggested accompaniments unless specific amounts are given. When there is a range of servings, the larger number is used. If there is a range in the amount of an ingredient, the smaller amount is used. When a recipe lists a choice of ingredients, the first is used.
Salt is figured only if a recipe calls for a specific amount. Salt added to cooking water is not included. Broth, stock, and canned or processed food items are considered to be the salted variety unless otherwise specified. If a salted, canned vegetable is rinsed, assume a 40-percent reduction in sodium. Butter is considered unsalted unless specified.
Nutrients analyzed: Calories, Protein, Carbohydrate, Total Fat, Saturated Fat, Cholesterol, Dietary Fiber, Sodium, Sugar, Potassium, Phosphorus. Note: When information for a nutrient in an ingredient is not available, it will be listed as N/A.
Nutritional values used in our calculations either come from The Food Processor, Version 11.4 (ESHA Research), USDA Agricultural Research Service Nutrient Data Laboratory, or food manufacturers.
Rounding Nutrition Information
Because all nutrient calculations are estimates, our numbers are rounded according to our software program and the FDA's established rounding rules for product labels, when appropriate. In addition, nutrient calculation information should always carry a disclaimer stating that the findings were used along with the professional judgment of the person who performed the calculation.
Additional Assumptions
Marinades: If the pre- and post-weight measurement is not provided (which is still an approximation), 10-percent absorption is assumed.
Alcohol: Alcohol retention is calculated using data from research conducted by the University of Idaho, Washington State University and the U.S. Department of Agriculture's Nutrient Data Laboratory.
Alcohol, no heat, stored overnight: 70% alcohol retained
Alcohol added to boiling liquid and removed from heat: 85% alcohol retained
Alcohol flamed: 75% alcohol retained
Alcohol, stirred baked/simmered 15 min.: 40% alcohol retained
Alcohol, stirred baked/simmered 30 min.: 35% alcohol retained
Alcohol, stirred baked/simmered 1 hour: 25% alcohol retained
Alcohol, stirred baked/simmered 1.5 hours: 20% alcohol retained
Alcohol, stirred baked/simmered 2 hours: 10% alcohol retained
Alcohol, stirred baked/simmered 2.5 hours: 5% alcohol retained
Alcohol, not stirred in, baked 25 min.: 45% alcohol retained
Homemade Broth or Stock: A laboratory-analyzed value of the most similar product will be used.